La Dottoressa
1973:
Laurea in Medicina e Chirurgia, Universita' di Milano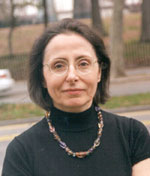 1973-77:
Specializzazione in Ostetricia e Ginecologia, Universita' di Messina
1978:
Radium Hospitalet, Oslo: Anno di specializzazione in colposcopia, diagnosi precoce e terapia dei tumori della vulva, vagina e collo dell'utero.
Al ritorno a Messina: Responsabile Servizio di Oncologia Preventiva e Colposcopia nel Reparto di Ostetricia e Ginecologia, Policlinico Universitario.
1979-83:
Responsabile Servizio di Oncologia Ginecologica Preventiva e Colposcopia, Universita' di Modena
1980:
University of Chicago: Anno di specializzazione nella patologia dei tumori ovarici.
1984-85:
Cook County Hospital, Chicago: Reparti di Ginecologia Oncologica e Ostetricia-Ginecologia
1986-90:
Specializzazione in Ostetricia e Ginecologia, Columbia University, New York.
Dal 1986 inizia a interessarsi di urologia ginecologica e di ecografia.
1991:
Sei mesi di lavoro e studio in Chirurgia Speciale Ginecologica, State University of New York, Syracuse
1992-2000:
Docente di Urologia Ginecologica nel Reparto di Ostetricia e Ginecologia, Long Island College Hospital, Brooklyn.
Consulente e docente di colposcopia per il servizio di Violenza Contro le Donne, al Long Island College Hospital
1997-2000:
Collaborazione allo studio, diagnosi e trattamento, sia chirurgico che medico, di casi di urologia ginecologica con il Prof. Jerry G. Blaivas, autorita' internazionale in urologia ginecologica, Clinical Professor of Urology al New York Hospital.
2006-2012:
dopo essersi interessata di terapia nutrizionale dal tempo dell'università, frequenta il corso quadriennale alla Vis Sanatrix Naturae di Roma e si diploma in Terapia Nutrizionale nel 2010. Poi segue un anno di pratica e perfezionamento con la dottoressa Anna D'Eugenio, dal 2011 al 2012.
Associazioni Mediche:
Correnti: Ordine dei Medici di Roma (a partire dal dicembre 2006: M66387) Società Italiana di Psico-Neuro-Endocrino-Immunologia Società Scientifica di Nutrizione Vegetariana Pregresse: American College of Obstetrics and Gynecology American Society for Colposcopy and Cervical Pathology American Urogynecologic Society American Institute of Ultrasound in Medicine American Medical Association North American Menopause Society National Vulvodynia Association (USA)
Ricerca e Insegnamento:
Ha pubblicato e insegnato nel campo della ginecologia oncologica e urologica, della ecografia pelvica, della sessualita' femminile e del dolore pelvico.